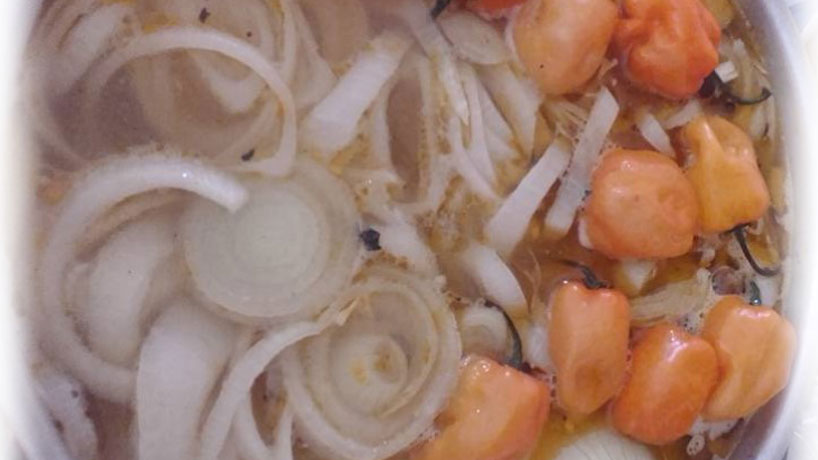 09 Aug

Belizean Favorites – Escabeche

Escabeche is a Mestizo influenced onion chicken soup. Here is the way my grandma cooks it. Hope you try it at home and enjoy it with your family and friends.
Ingredients
1 Whole Chicken
7 – 9 whole spice seeds
7 oregano leaves or 2 tsp crushed oregano
7 whole cloves
1 tsp cumin seeds
salt and pepper to taste
5 plugs garlic
4 lbs. onion, thinly sliced
1 cup sour orange juice a little more or less depending on your taste (if you are unable to get the fresh sour orange juice, you may use white vinegar)
1 can jalapeno peppers
Habanero peppers (as many as you want)
Directions
Rinse chicken with lime/vinegar and water.
Season chicken with salt and pepper (you may add garlic powder I you are a garlic lover).
Roast 5 garlic plugs in a comal or a pan
Pour 7 cups water to cover chicken. Add all other dry ingredients EXCEPT sliced onions and sour orange juice/vinegar
Cover and bring to boil and let chicken simmer in low heat for about 20 minutes.
While the chicken is cooking. Put a kettle of water to boil. Peel and slice onions, pull apart the slices making loose onion rings, and place in a large bowl. When water is boiling pour this over the onions. Let it sit in this water for 3-5 minutes. Then drain and add to broth.
Now, you can add sour orange, salt and pepper, jalapeno juice (all to taste). Cover and let it simmer for about 15 – 20 minutes. Remember, once you turn off the stove, put habanero peppers with stems so they can steam a little before you serve this delicious dish (you don't want them to burst open with the heat).
Chicken should be cooked by now. Take it out of broth and place in a bowl to drain and cool off.
If you are frying the chicken, heat 3 table spoons of oil (olive oil, regular cooking oil or butter – I love butter). Fry chicken for about 1 minute on each side. If you are grilling or baking the chicken, please be sure to have grill/oven preheated and rub chicken with some olive oil or butter. This helps to make it crispy.
Escabeche is best served hot with FRESH corn tortillas and an ice cold coke. To add spice, you can cut open the habanero pepper and enjoy the heat!
The perfect hangover meal!
Next time you visit us, be sure to ask our server for this tasty meal. I am sure you will enjoy it.